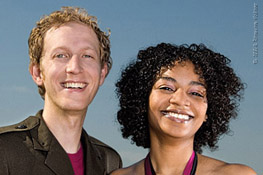 ALLEGRA KOLBER : Written by / Producer / Director / Editor
Allegra Kolber is a film director and editor. Her short films have aired on television and internet channels including Current TV Network, Docubloggers KLRU / PBS Austin, and Next New Network's Threadbanger. Allegra has edited numerous short films and worked as an Apprentice Editor on several theatrical feature films including Before Sunset (2004) and A Scanner Darkly (2006).
SHAUNE KOLBER : Written by / Producer/ Director / Director of Photography
Shaune Kolber is a filmmaker and freelance photographer living in Austin, Texas. His photography & cinematography have been featured in other projects including work for AT&T Blue Room, Readymade Magazine, TechInsights, and the Blanton Museum of Art. Shaune's fine art photography has been featured in the Austin Museum of Art: 22 to Watch and Arthouse's New American Talent.

DWIGHT ADAIR : Producer
Dwight Adair's prime time television credits include directing episodes of "Dallas" and "Dynasty" and produced the NBC movie of the week "She Fought Alone." Dwight Adair served as president of Granite House, Inc from 1994-2002 that included producing, "Dream House", a 13 episode Home and Garden TV documentary series. Dwight is a graduate of the Leadership Austin program, a Board Advisor and MBA Program adjunct professor at St. Edward's University, and is a director in good standing in the DGA.

MEDIUMS : Original Music
Mediums is the musical brainchild of Travis Austin. Mediums have been described as "Austin's best kept musical secret" and have scored several films. The most recent Mediums album, "The Foundation" was released January 2011.

TIM BROWN : Narration
Tim Brown has an MFA from the University of California-Santa Barbara. His paintings and sculptures have been exhibited nationally as well as internationally in Mexico and the Philippines. Tim has taught art at Texas State University and UC-Santa Barbara. He has also narrated several museum exhibits.

RYAN HENNESSEE : Animation
Ryan Hennessee and eight other artists founded Austin gallery Okay Mountain in 2006. Since then Okay Mountain has exhibited their work in numerous places throughout the U.S. as an artist collective and continue an active art practice. Most recently, Ryan formed the directing team Okay Video with Sterling Allen and Peat Duggins. Okay Video's music video for Bill Callahan's song America was cited by Pitchfork as one of the top videos of 2011. Okay video has done recent work for the Flaming Lips as well. Ryan also publishes a weekly comic called Peppermint Tears.

PEAT DUGGINS : Film Title Design
Peat Duggins received his BFA in Film/Video from the Rhode Island School of Design before relocating to Austin, Texas. His work is included in several public and private collections including those of the Blanton Museum of Art and the Austin Museum of Art. His accolades include fellowships from the Pritzker Foundation and Brown Foundation, numerous residencies including the Bemis Center for Contemporary Art, the Yaddo Artist Colony and the Djerassi Artist-in-residence program, and grants from the Dallas Museum of Art and the Fusebox New Media Festival. He currently lives and works in Cambridge, Massachusetts.
JEREMY FLEISHMAN : Sound Edit & Mix
Jeremy Fleishman is a Sound Recordist, Sound Editor, Foley, and Sound Mixer, among other things. He has done mixing an effects for over 100 films which has screened at national and international film festivals including Cannes, Sundance, Rotterdam, Hot Docs, SXSW, NYFF, and many more.

TYLER MALLORY : Narration Recording
Tyler is best known as a member of the Austin alt-country group San Saba County. When he isn't contributing bass lines and backing vocals, Tyler also records and mixes music at his studio Abbyville Roads.

PHOTO BOOTH PICTURES : Film Production and Post Company
MITZI GILLIS : Writer / Associate Producer
GABRIEL FOLSE : Associate Producer